Glitter Lattes + Cupcakes Shopping Event
Hey Babes,
Saturday was such a fun time. I was invited to a shopping event with my fellow CT Blogger Babes. I am always excited about new events because its an opportunity to meet new awesome bloggers, network and check out places I probably would have never visit. I have lived in Connecticut pretty much my entire life and NEVER have I ever heard of Canton, let alone the Shoppes at Farmington Valley.
There's so much going on at the Valley during this holiday season. For all my readers from the Hartford CT area make sure you check them out and make your holiday shopping fun at the Shoppes at Farmington Valley.
The Shoppes is an open-air shopping destination with a fun and lively atmosphere, offering more than 45 specialty stores and unique eateries. Creating a shopping experience unlike any other, with lush landscaping, winding sidewalks & live events, The Shoppes strive to craft a special place for their valued customers. The Shoppes are located at 110 Albany Turnpike in Canton, CT. For more information & a store directory visit https://www.theshoppesatfarmingtonvalley.com.
Don't dread holiday shopping this year - and don't hide behind your computer and fill up your online cart. You can go select the perfect gift for everyone on your list AND enjoy the experience when you shop local at the Shoppes at Farmington Valley. They have an exciting events line up that you are going to love.
It was great to venture around the Hartford area and get to know more of my state. New York City is really all I know and usually where I go for pretty much everything. So, of course, I had to take advantage of the scenery and squeeze in a few photos.
I was invited to meet at Nora's Cupcake Co. where I had my very first Glitter Latte! Nora's has to be by far the cutest cupcake shoppe I have ever seen. The décor just screamed shabby chic! Perfect for all my girlies out there. From there, we all split for some discounted retail therapy and ended with a few drinks and appetizers at Feng's.
To attend the event, I wanted to be comfortable, since I knew we would be doing some shopping, but I also wanted to be stylish. When getting dressed I always think, "how will my photos look in this?" (the blogger mindset in me, sorry guys!) Being that it is cold here in CT, I knew I had to throw on a sweater. I had gotten this grey turtleneck from Shein that was absolutely perfect. There was no need for a coat or jacket. The sweater kept me warm enough. Which made my walking around that much more convenient since I hate carrying around a heavy coat.
I paired this perfect sweater with ripped skinny's and, of course, a chunky heel bootie. I was dying to add an accessory. I searched high and low for a cute fedora hat to top it off. However everywhere I went only had beanies.
Nonetheless, I was definitely loving this sweater. I think it is going to be my season go-to. My favorite part about it is the material. Its not itchy; not only will it keep you nice and warm but it is so soft. Perfect for shopping around this holiday season.
Below find the link to recreate this look. I would like to thank the CT Blogger Babes for inviting me to this event. Thank you to Kat Ortiz with @birdsocialmedia and her girls for putting this all together for us. Thank you to the Shoppe at Farmington Valley for having me. It was a truly fun time. Thank you so very much and I pray to see you all soon at our next event.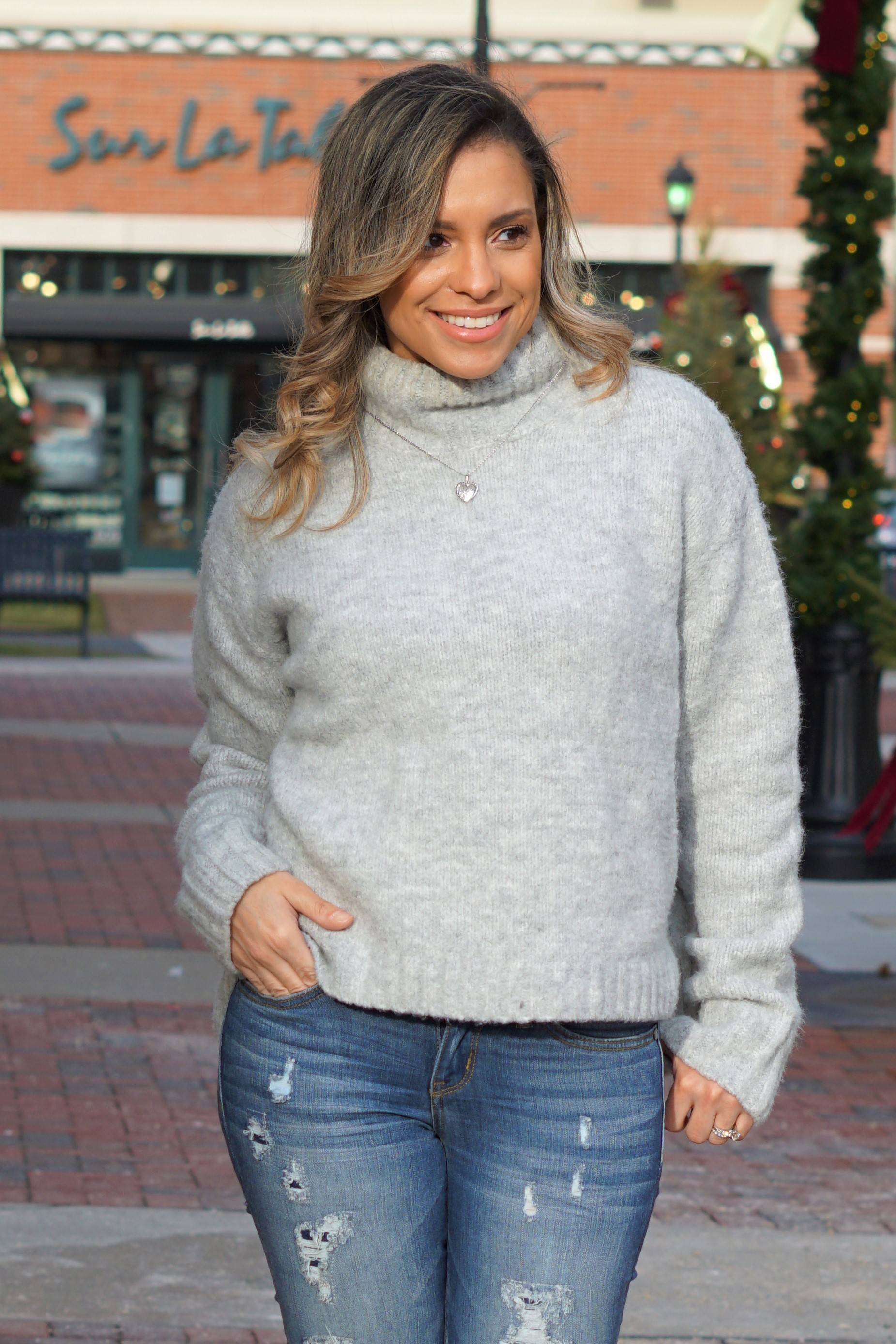 Sweater // Click Here
Jeans // Similar Ones Here
Booties // Similar Ones Here
If you are interesting in visiting the Shoppes at Farmington Valley, make sure you check out the next event taking place at the Valley taking place on Saturday December 16th breakfast with Santa and then dinner with Santa on Sunday, December 17th. Call 860 693 4927 for reservations